Join us for Spring Spectacular, our annual Spring Fundraiser celebrating and highlighting the work of our 2nd year students. 
One Weekend Left! 
March 25th & 26th
10am-5pm

Our phone system & internet will be down on Sunday, March 26th.
We are still open normal hours & activities. We recommend purchasing tickets in advanced.
We apologize for the inconvenience.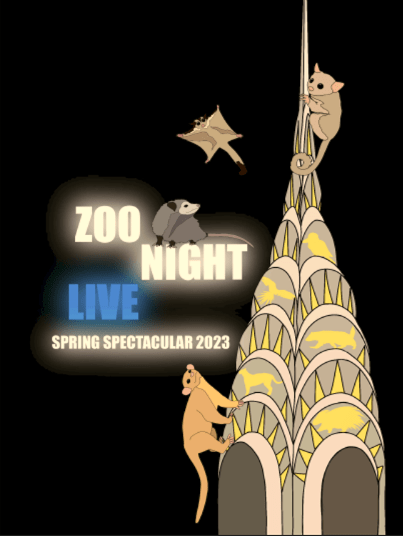 Main Theater Show: Zoo Night Live
10:30 • 12:00 • 2:00 • 4:00

Eye to Eye Wildlife Presentations
11:00 • 1:00 • 3:00
Creature Feature
11:30 • 1:30 • 2:30
Enjoy Ira's Kingdom and Exploration Stations all day
The main show is a silly, fun scripted show put on by 2nd year students and meant for all ages to enjoy. Eye tot Eye Wildlife presentations will allow you to see and learn about even more animals! Creature Feature allows for even more animal adventures as we bring in animal professionals and their magnificent creatures.