The Teaching Zoo at Moorpark College is currently a five acre "classroom" for the Exotic Animal Training and Management Program. Established at Moorpark College in 1974 it attracts students from around the world because of its unique "hands-on" component and curriculum.
The Teaching Zoo serves the surrounding communities as an educational resource and a recreational attraction for people of all ages. Thousands of people visit the zoo every year for field trips, family outings and special events.
In December 2014 a completed, Teaching Zoo funded, Master Plan was finalized in coordination with a new Master Plan for Moorpark College.
Rajah's Retreat Tiger Habitat
Neil and Karma arrived at The Teaching Zoo at Moorpark College as just 50lb cubs. Now weighing more than 600 pounds combined the need for a newer, larger enclosure is ever present. 
We broke ground in October of 2021 with plans of opening this amazing habitat in 2024!
This habitat will be among the existing trees, with large glass viewing areas, 2 large enclosures connected with a tiger tunnel, heated den areas and a large pool to allow Neil & Karma to make a splash!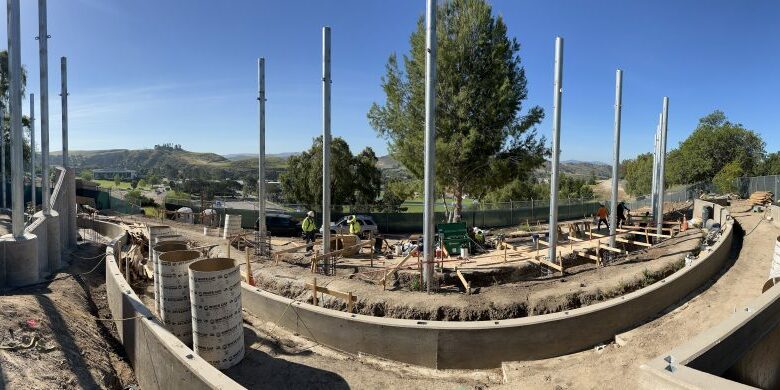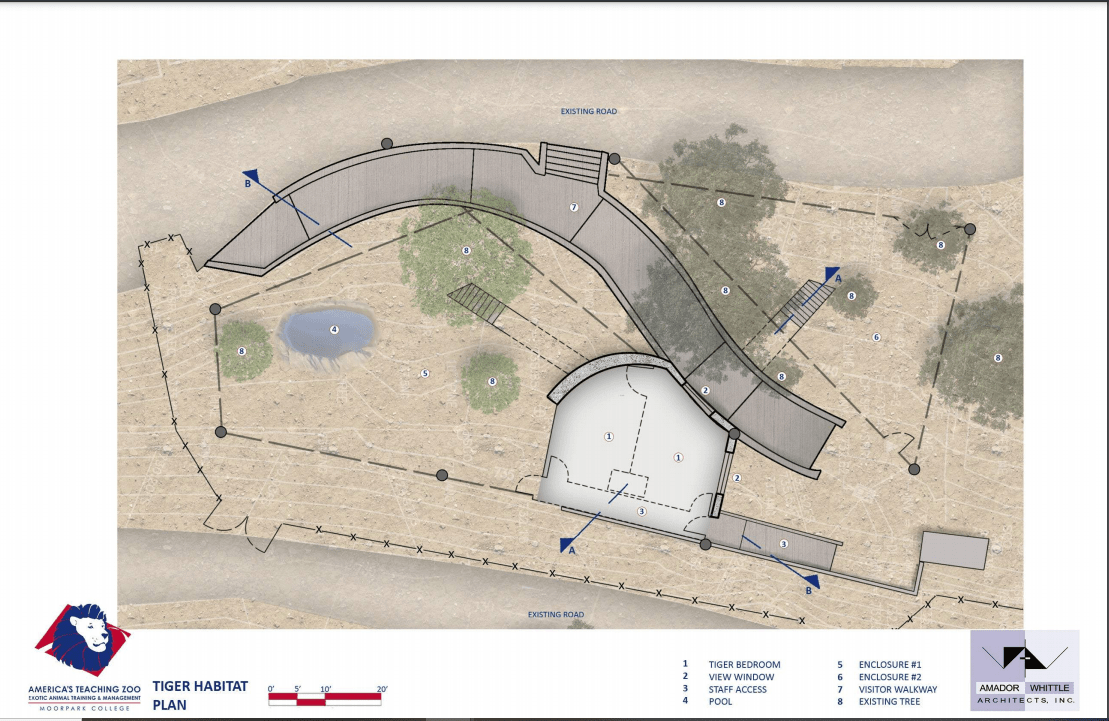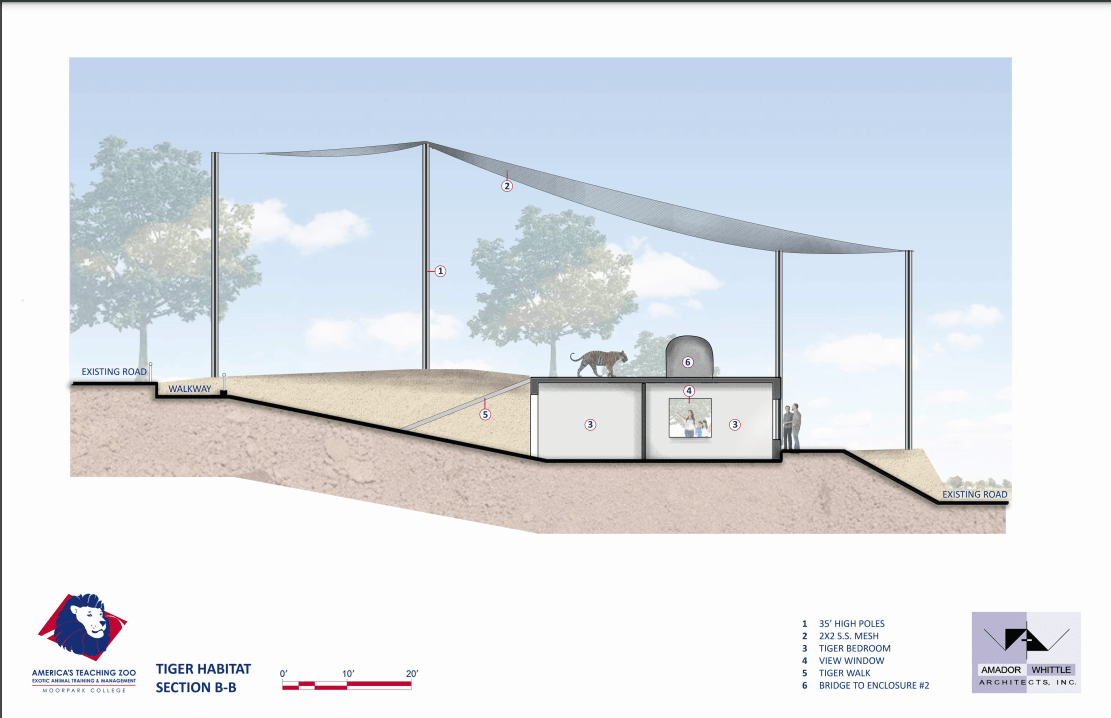 The Master Plan highlights the strengths and vision of what The Teaching Zoo at Moorpark College is known for and keeps in direct line with our Mission Statement.
To inspire conservation action by providing engaging connections with wildlife and those who care for them.
The Plan is guided by six principles that define the best of what the Exotic Animal And Training Management  program and The Teaching Zoo have to offer:
Animal careers begin here

Safety and animal care are our top priority

Here, behind the scenes is front and center

Our purpose is to inspire conservation animal care and the environment

We aspire to cultivate support and investment from the community we serve

We are committed to fiscal and environmental sustainability
The Master Plan has incorporated more naturalistic housing for the animals, more opportunities for visitor experiences and more up-to-date facilities for our students in the program to learn and grow from. The Plan also calls for a future Hillside Expansion, a California Habitat, a public friendly zoo entrance with a sprawling event lawn, a new Animal Care Center and a sea lion habitat and amphitheater.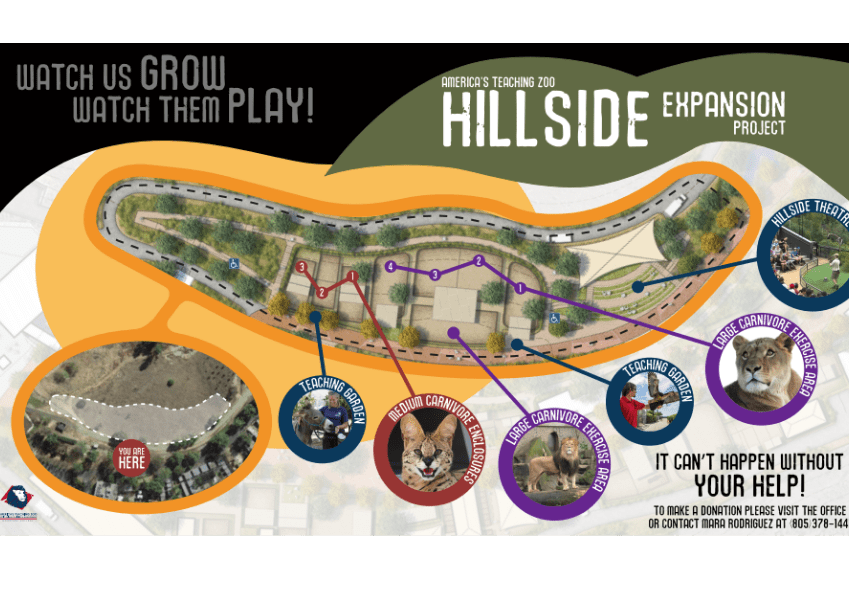 What We Have Accomplished So Far
Ira's new spacious home is now complete. With his very own pride rock he can look out over the hill and truly be King of the Campus. Complete with heated concrete floors in his bedroom area and large visitor viewing areas. Ira's Kingdom was completed because of donations from people like you!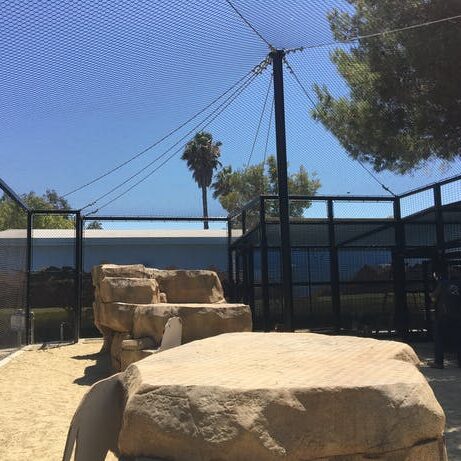 Ira's Kingdom
Completed Fall of 2020
In celebration of former Zoo Operations Supervisor, Michlyn Hines the Alumni Aviary offers large enclosures exhibiting all of our Birds of Prey, Parrots and other bird species. Laying the foundation is Alumni bricks helping to celebrate all our Alumni near and far. We are currently in the process adding a few new additions to help complete Alumni Aviary.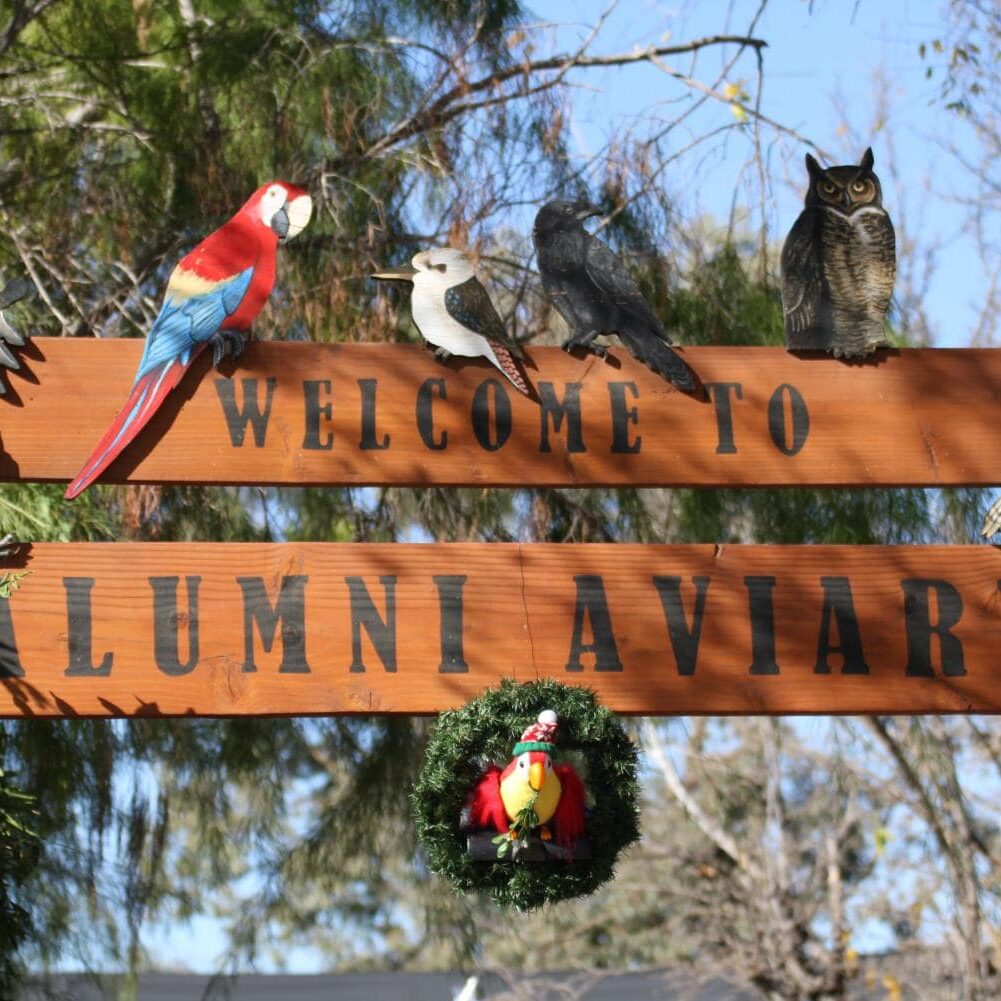 Alumni Aviary
Completed 2016 -
Additions In Progress
Contributions made help us continue working towards our Master Plan and help us continue to support the Mission of The Teaching Zoo at Moorpark College and the students of the Exotic Animal & Training Management Program. 
Thank you!